Introduction
In today's digital age, having a strong online presence is critical for any author looking to connect with their audience and promote their work. Search Engine Optimization (SEO) is an essential tool for achieving this goal. As we move into 2023, the landscape of SEO is constantly evolving, and it's important for authors to stay up to date with the best practices to ensure their website is visible and discoverable by potential readers. In this article, we will explore the top SEO practices for author websites in 2023, including content optimization, link building, and mobile optimization, to help authors increase their visibility and connect with their audience.
In 2023, SEO practices basically comprise four main areas of work: Keyword research, on page SEO, Technical SEO, and Link building. We will discuss how to do each one and the optimal practices for the year 2023.
Keyword Research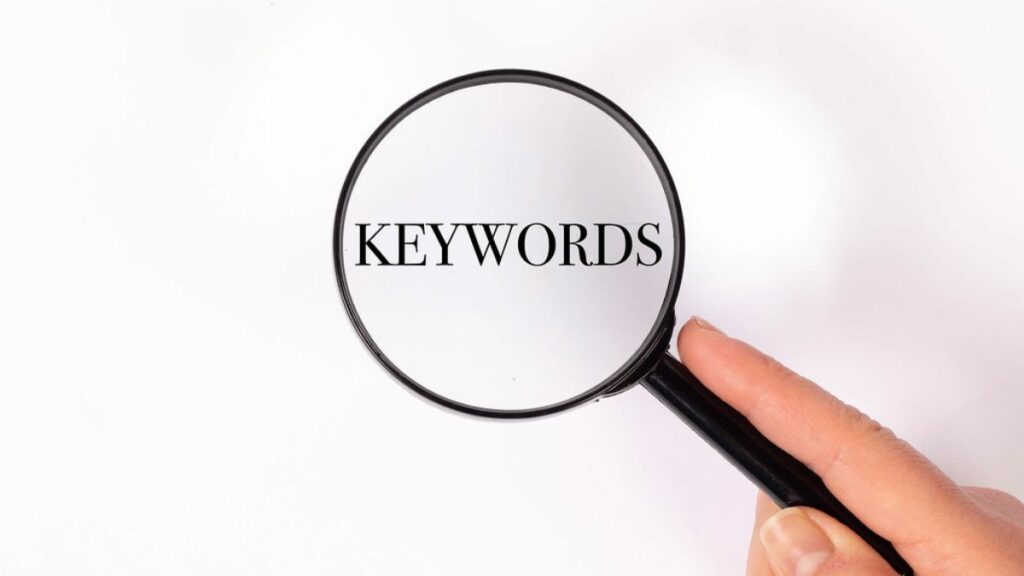 Understanding Keywords
Keywords are the phrases and terms that people enter the search engines when looking for information online. In the early days, keywords randomly combined a few words for a topic (like you wrote a telegram) and displayed results that had those in them. However, with the rise in complexity and computing power, now the search engines can identify long tail keywords, synonyms, and intent of the search.
No one can tell you exactly how search engines work, as they all have their secret codes, but we have a general idea of their working. For example, take these two search phrases into consideration: "How to do SEO for my website" and "Best SEO practices". With the first phrase, the search engines understand that the user wants information on SEO, but also understand that the user may be searching for products to buy; with the second phrase, the user wants a DIY guide.
The result is that you have to be cautious in choosing your keywords as phrases like how, why, tools, books, news, etc. may help you hit your exact market. It is a win-win for both consumers and the content creators. However, the competition and the click baits make this collaboration difficult. Search engines are always on the lookout for fake content that is present only to misguide users, and they are developing better ways to serve the user with the exact match for their search. This is the reason, you need a good SEO plan, if you want to reach your desired market on the internet.
Conducting Keyword Research
By understanding the keywords that your target audience is searching for, you can optimize your website and content to rank higher in search engine results for those terms. Conducting keyword research is the first step in optimizing your website for search engines. Some of the key factors while conducting your research are your target audience, demography (age, sex, location, etc.), interests, mode of search (typed or voice), device, and other important factors that may help you divide your segments.
You should focus on 2 to 3 main keywords for your website and then build secondary and long tail keywords around those main keywords. There are several tools and techniques that you can use to determine which keywords apply to your business and to identify opportunities to target new keywords. Some of the most popular tools include Google AdWords Keyword Planner, SEMrush, and Moz Keyword Explorer. Here is an article on the best tools for SEO and every other tool that can help you as a writer/author/DIY website builder.
Creating Content
With these tools, you can explore different versions of keywords, search trends, competition, and a lot more. You can also use amazon, Pinterest, and other social tools to find out the trending keywords for books and podcasts. To find out more about tools which can help you with the best SEO practices in 2023, you can read this article.
After you have done your research and collected the primary and secondary keywords, write articles, blogs, and pages related to those keywords. Keep one page dedicated to one focus key phrase and include synonyms and variations of that keyword to make the content humane. For example, as an author/writer, your content should be related to writing, reading, books, podcasts, etc. Do not choose keywords that belong to entirely different markets. Try to keep the website relevant and cohesive.
On-Page Optimization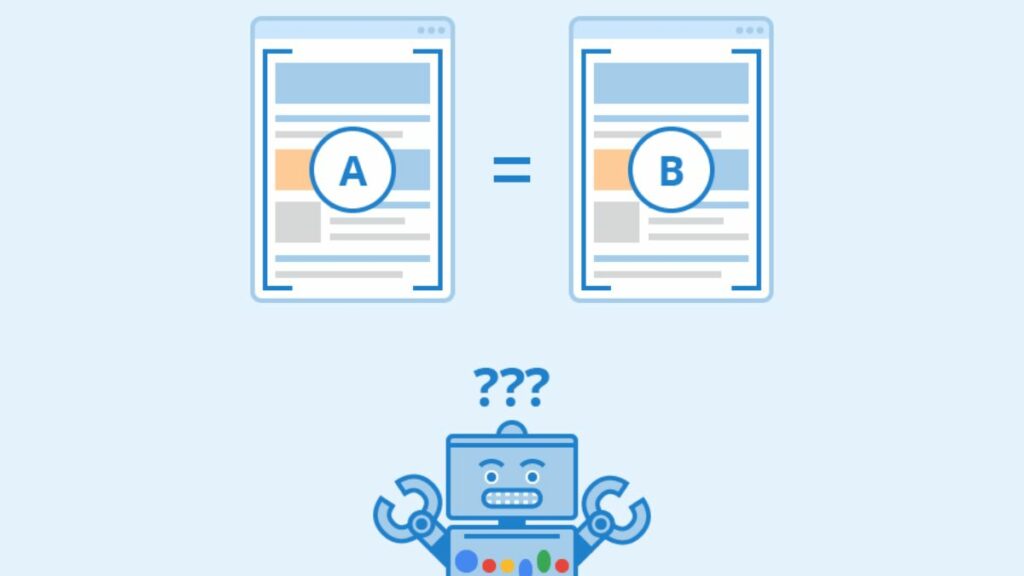 Title Tags
Title tags are an important component of on-page SEO. They appear in the search engine results and provide a brief description of the content on your page. Some of the best practices for SEO in 2023 for title tags are:
They should be unique to each page.
They should include the primary keyword that you are targeting on that page.
They should not be too long and should be completely visible in the search results.
Meta Descriptions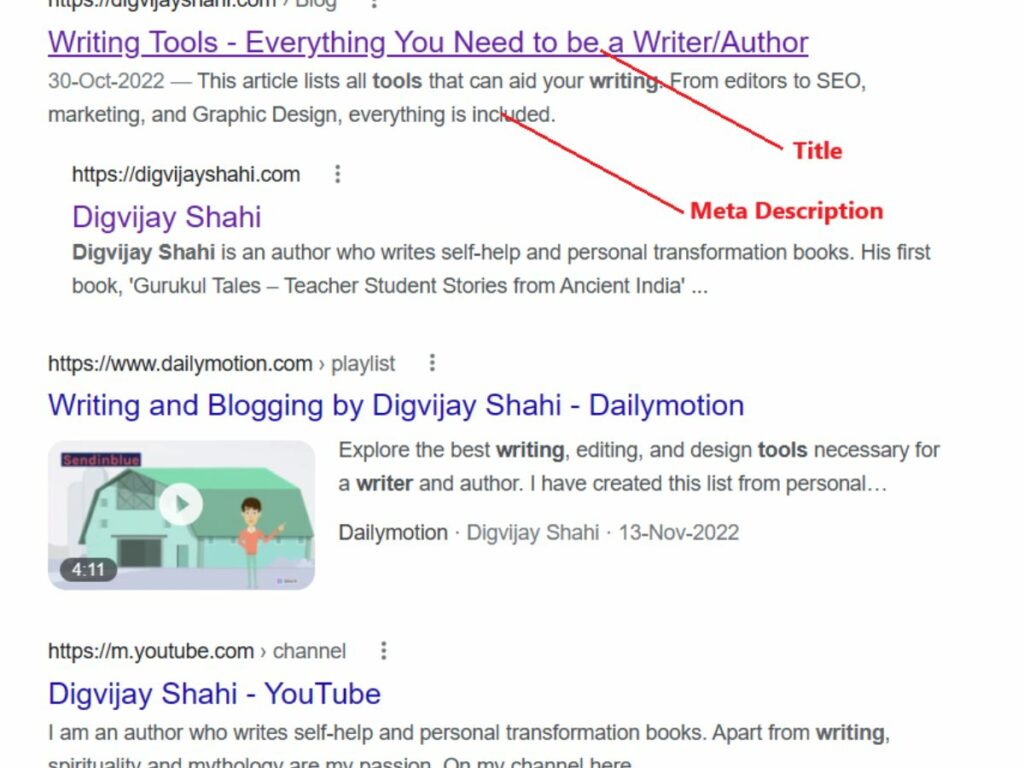 Meta descriptions are another important component of on-page SEO. While the title tags help search engines understand the content, meta description is a direct opportunity for you to tell them what your content is about. They summarize the content on your page and appear in the search engine results under the title tag. You should restrict the length of meta descriptions to around 150 characters so they are completely visible in the search results, and they should be well written, and should provide a clear and concise overview of the content on your page.
Header Tags
Header tags (H1, H2, H3, etc.) are used to structure the content on your page and make it easier for search engines to understand the hierarchy of your content. They should break up your content into sections and emphasize important points or keywords.
The search engines read the headers of a page to understand the structure of the content and the main points that your page or blog is talking about. Also, if you have seen the common questions on google search, it auto-generates those lists using the header tags on web pages.
In simpler terms, where the keywords are important to know what a user wants, the header tags tell the search engines what the page is about. So, apart from the presence of keywords on a page, header tags are quite important in making the results relevant for a search phrase. Some rules for using the header tags correctly are:
There should be only one H1 tag which should be your title for the page or the blog.
You should nest the title tags in order, i.e. H1 H2 H3 H4, H4…, H3 H4, H4…, H2 H3, H3…
You should use HTML tags as and not just increase the font size of paragraph text as headers.
They should include the keywords and their synonyms that you are targeting on the page.
By using header tags efficiently, you will guide the search engines to understand the content of your web page.
Content Optimization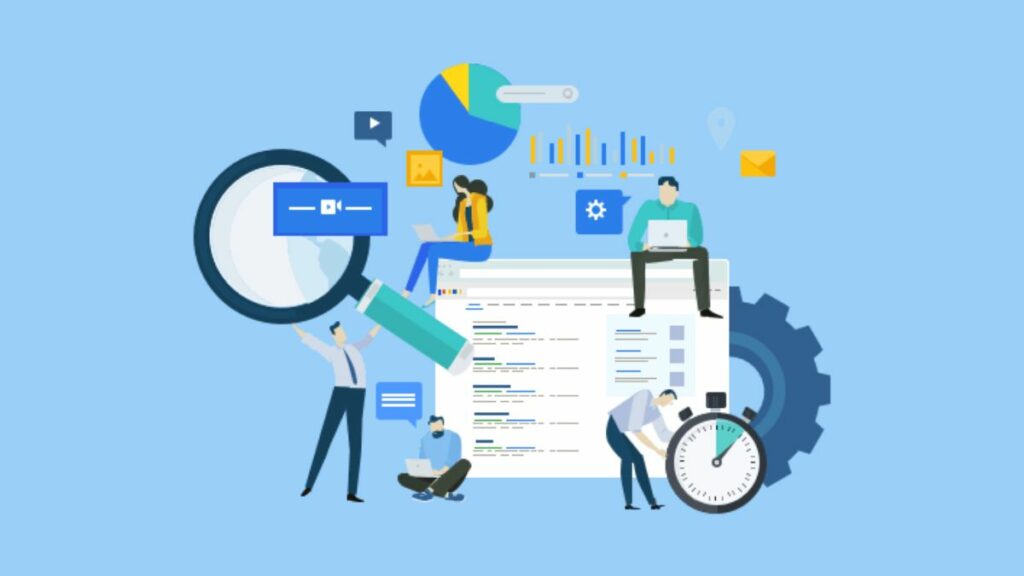 Content is the cornerstone of your website, and it is critical that you optimize it for search engines. When writing content for your site, be sure to include the primary keyword that you are targeting in the page's title, header tags, and throughout the content. Also, be sure to write high-quality, original content that is relevant to your target audience and provides value to them. Some of the best SEO practices while creating content in 2023 are:
Create Clean and Structured Pages
Use a uniform structure for pages and blogs with html tags like headers, titles, fonts, lists, etc. They will help the search engine in understanding your content and give a good user experience while browsing through your site. Search engines also consider the user experience factors like bounce rate, time spent on a page, etc. while assigning page authority, so remember that your author website or blog should be user friendly. Choose a clean theme, good fonts, and clean design as they suit your subject or genre of writing.
Use White Spaces
Remember to use white spaces on your pages. A cluttered website is unappealing to a user. While using white spaces, use code for tabs, page breaks, Guttenberg blocks, etc. They will help reduce the size of web pages and tell the search engines of their purpose.
Use Images with Alt Texts
You should use high-quality images while building content. They engage users and add aesthetics to your content. They are also an excellent area to benefit from image SEO. Although image search is growing rapidly with growing AI, alt texts are still relevant in 2023 and count as one of the best SEO practices with images. Alt texts are phrases that work like key phrases for images and tell the search engines what the images are about. So, use alt texts and include your keywords in some to display your page's images in the image results on search engines.
Use Hierarchy of Content
Just like header tags, the search engines treat pages differently to understand the structure of your entire website. You can divide the pages on different levels. Your home page (the page that opens after typing your domain) is the top-level page. The categories and the pages without categories are second level. Similarly, the pages with categories, blogs, and other nested pages come after that.
Search engines give the high-level pages more priority when looking for a result. This does not mean that you should not use nested structure. Remember that real people will use your website, and it will be difficult for you to organize the content and give the users a pleasant experience with all top-level pages. However, remember to put some of your important content with your primary keywords on high-level pages.
Interlink Pages
Interlinking your pages gives the search engine crawlers an opportunity to crawl your entire website. It also tells the search engines how your pages are organized. If related pages have links to one another, it shows that you have covered a detail knowledge on a topic. Also, internal links help the human users find related content and help you keep your users on your website for longer periods. The search engines record user interaction on your website and if users do not bounce after the first click on search results, it would add points for your website.
So, interlinking pages and providing information in a well-organized way is very important if you are playing the long SEO game. However, remember not to overdo this. Linking all pages with each other is not the best SEO practice for 2023. Remember that with growth in AI, the search engines are becoming smarter. They can judge if you have linked relevant content or not. So, use strong interlinking, but do not try to cheat the robots or it may harm you more.
Create Cornerstone Content
Cornerstone content is the one or two pages on the website, which provides the most information on the topics you talk about. These pages should be long (4000 or more words), extensive, and should have texts, images, tables, lists, FAQs, and other elements. They should have the primary keywords that you are targeting for your overall website.
Search engines will treat the page that has most incoming links from your website as the cornerstone content. So, all other pages and blogs should point to your cornerstone content, and it should have links to other pages as well. You should try to restrict these pages to a maximum of three, and your home page should be one of them.
Here is an article to help you create a professional website for authors and writers to give the best user experience.
Off-Page SEO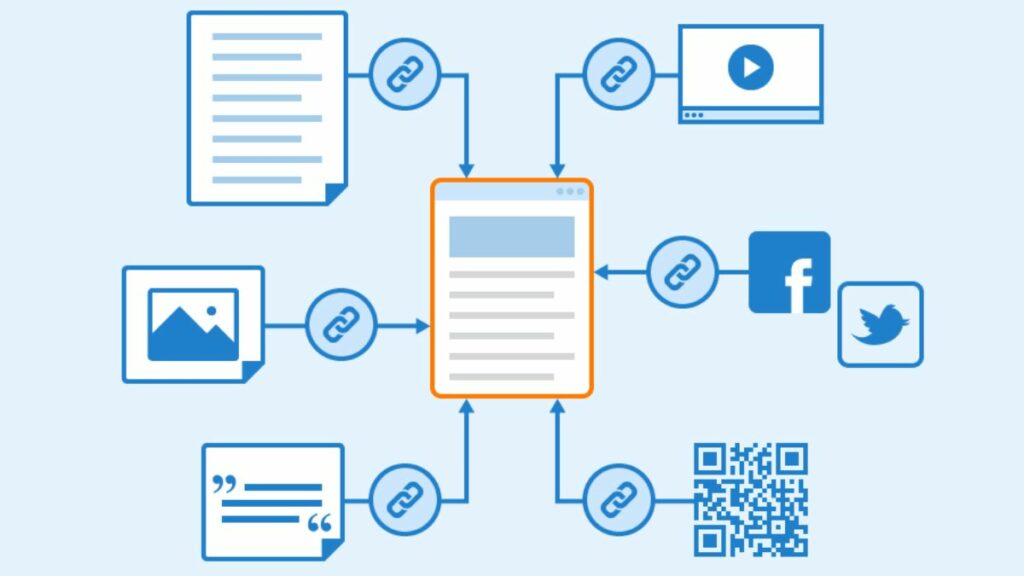 Understanding Links
Link building is important for SEO because search engines like Google use links to determine the authority and relevance of a website. When a website has many high-quality links pointing to it, search engines consider it to be more trustworthy and valuable, which can improve its search engine rankings. Link building can also help drive referral traffic to a website, which can increase its visibility and potential for conversions. However, it's important to note that link building should be done ethically and under search engine guidelines to avoid penalties.
Links are an important component of SEO, as they signal to search engines the importance and relevance of your content. We have already talked about internal links, but good SEO practices also include external links. A genuine website will have external links that point to other websites, as all content needs references. Together with adding external links on your website, you should also try to earn inbound links from other websites to your site as they are seen as a vote of confidence in your content and can help to boost your rankings in search engine results.
There are two types of inbound links: do-follow and no-follow. The robots that crawl the websites use the do-follow links to crawl other websites, whereas the no-follow links ask the robots not to crawl the linked site. The reason for no-follow links is sometimes websites will add links that may not be trustworthy (either intentionally or user generated content like on social media), and so they will add a no-follow link to it.
Building Quality Links
Site authority is measured in numbers, which is also referred as juice. Do-follow links help pass the juice from one website to another, while no-follow links do not. So, if a website with good authority adds a do-follow link to your website, you get a share of their authority. Keep in mind that although they are the best way to gain authority, search engines understand that only do-follow links are not natural. Hence, try to have a mix of both (a 70:30 mix of no-follow and do-follow links is considered ideal).
There are a number of strategies that you can use to build links to your site. Some of them are:
Guest posting—write blogs for other people and add links to your website.
Cross posting—Collaborate with other websites to exchange follow links.
Adding links to directories and other websites—you can add links to your website on directories and other websites when you create your profile.
Get into Google news—You can add your blogs to google news and earn links and traffic.
Broken link building—Look for broken links on other websites that have a similar content and ask them to replace them with your links.
Creating high-quality content—Create unique and high-quality content that others will want to link to.
Here is an article on how you can build your links ethically by following the best SEO practices in 2023.
Best Practices for Link Building
Building quality links is one of the most important aspects of SEO. Together with building a mix of do-follow and no-follow links, you should also try that bad websites should not add your links. Although you will not have control over this, you can try to either personally approach these websites and ask to remove your links, or at least alert the search engines about such bad links. Apart from these, some tips for best SEO practices for link building in 2023 are:
Look out for broken links on your website.
Look out for inbound links of expired pages.
Do not add too many links in a short time.
Keep up to date with the search engine guidelines.
Failing to follow the guidelines may cost you, as the search engines might bar your site for some time or permanently. There are a number of tools that can help you in monitoring your links. So, use the said points and build your links ethically to improve your site's authority score in search engines and soon you will have a position on the first page of the search results.
Technical SEO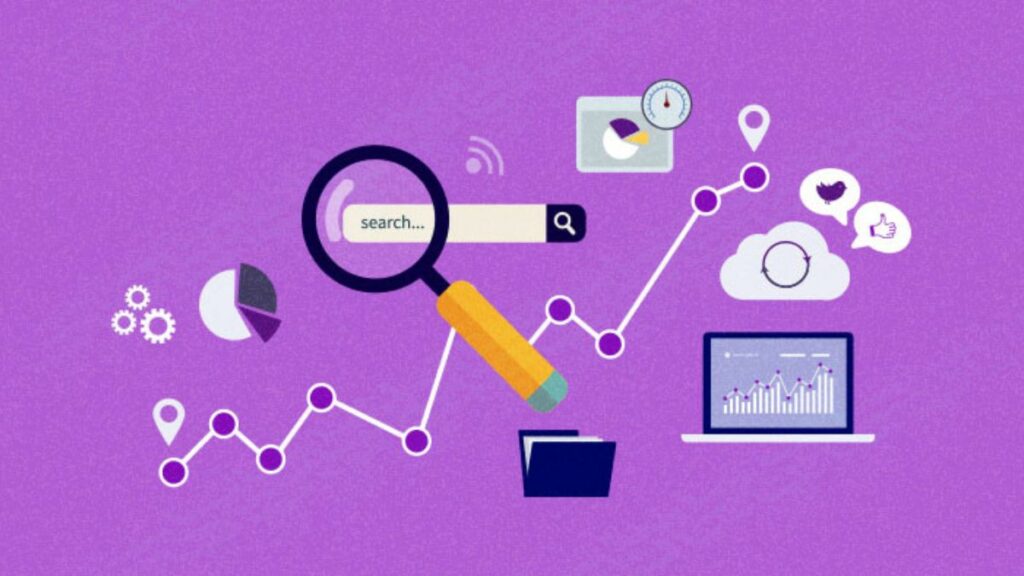 Technical SEO refers to the optimization of a website's technical aspects to improve its search engine visibility and ranking. It involves optimizing website structure, speed, accessibility, and indexability for search engines. Technical SEO also includes tasks such as optimizing robots.txt, XML sitemaps, canonical tags, and ensuring proper HTTP status codes.
Here are the key SEO practices for 2023 that you should keep in mind while doing technical SEO.
Site Structure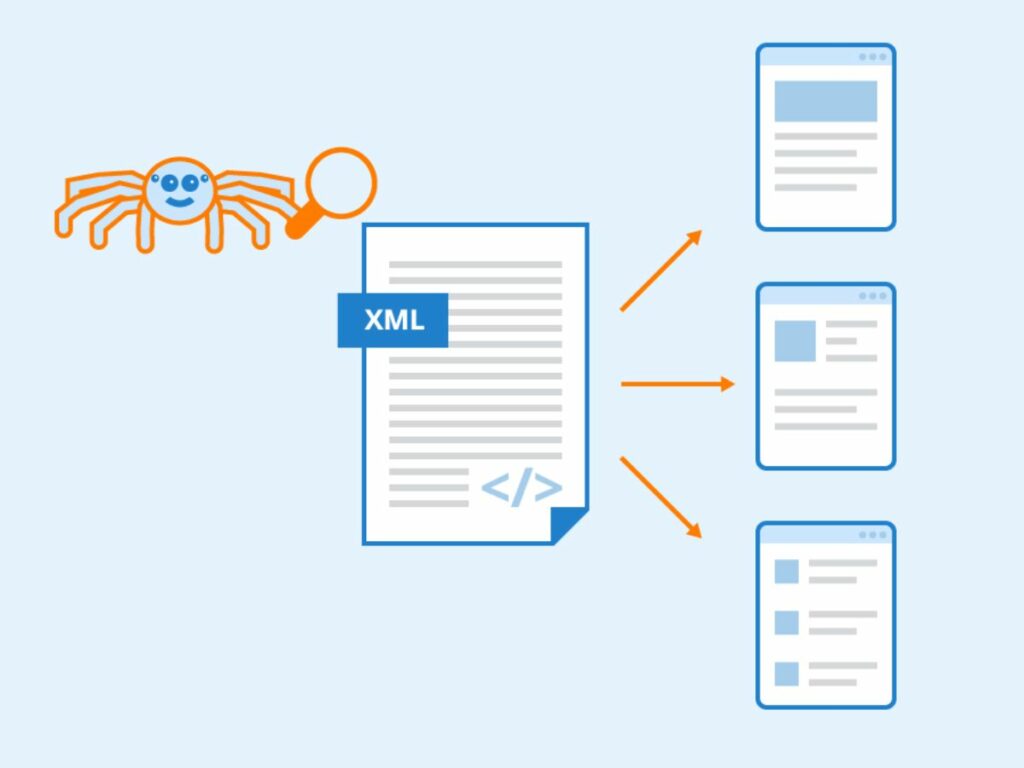 The structure of your website is an important component of technical SEO. Your site should be easy to navigate, with a clear and intuitive structure that makes it easy for both users and search engines to find the content they are looking for. This includes having a clear hierarchy of pages, using descriptive URL structures, and ensuring that your website is accessible and easy to use for both users and search engines. Some key points are:
Have a clear hierarchy of pages like home, categories, blogs, etc.
Use HTML code for content like text, images, tables, and lists, etc. Follow the DOM order on webpages and keep a clean interface (code wise). Define page elements like text blocks, image sizes, buttons, etc. on the page with proper names and in fixed areas.
Remove duplicate content from your site (They make a negative impact on search engines). Instead, use interlinking. If you have to keep duplicate content, use canonical tags to tell the search engines, which is the original content.
Use security protocols with HTTPS certificates, firewalls, etc.
Mobile Optimization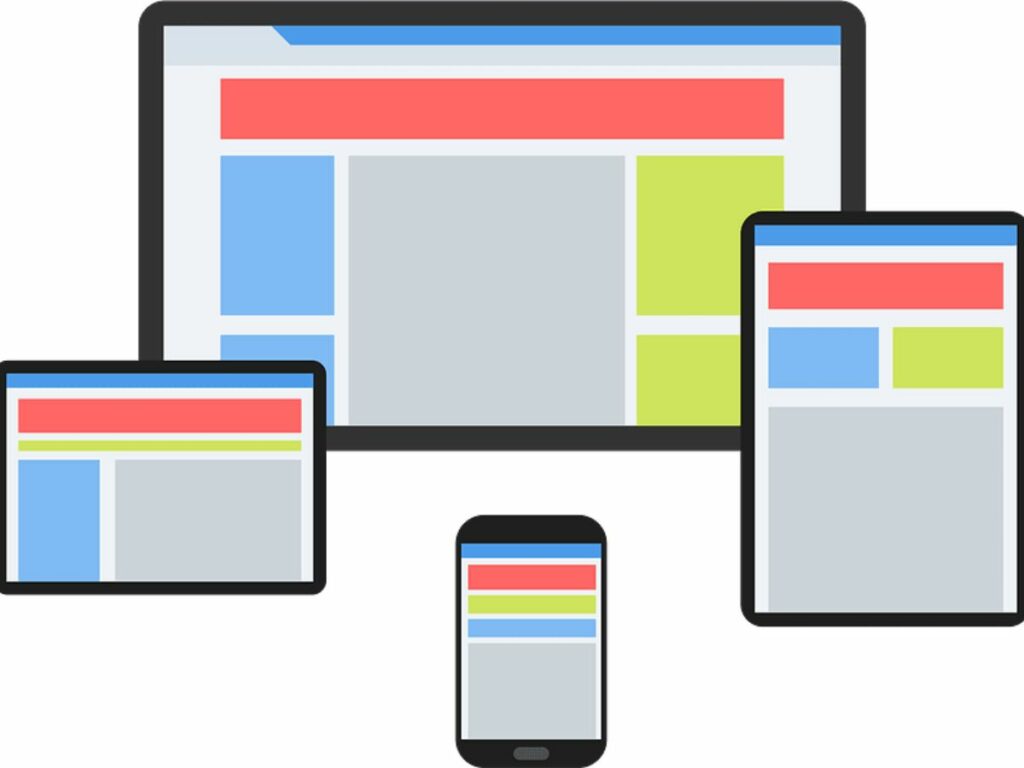 With more and more users accessing the web through mobile devices, it is critical that your website is optimized for mobile. Some points to keep in mind are:
Have a responsive design that adjusts to different screen sizes or use a separate light theme for mobile devices.
Serve AMP pages on mobile devices to let the search engines know the difference.
Use small size images for mobile devices which reduce the size of page but deliver enough clarity on small screens.
Ensure that your website loads quickly on mobile devices and avoid pop-ups and interstitials that can interfere with the user experience.
Keep the interface clean with ample white spaces so that users can use buttons and other elements easily on small screens.
Site Speed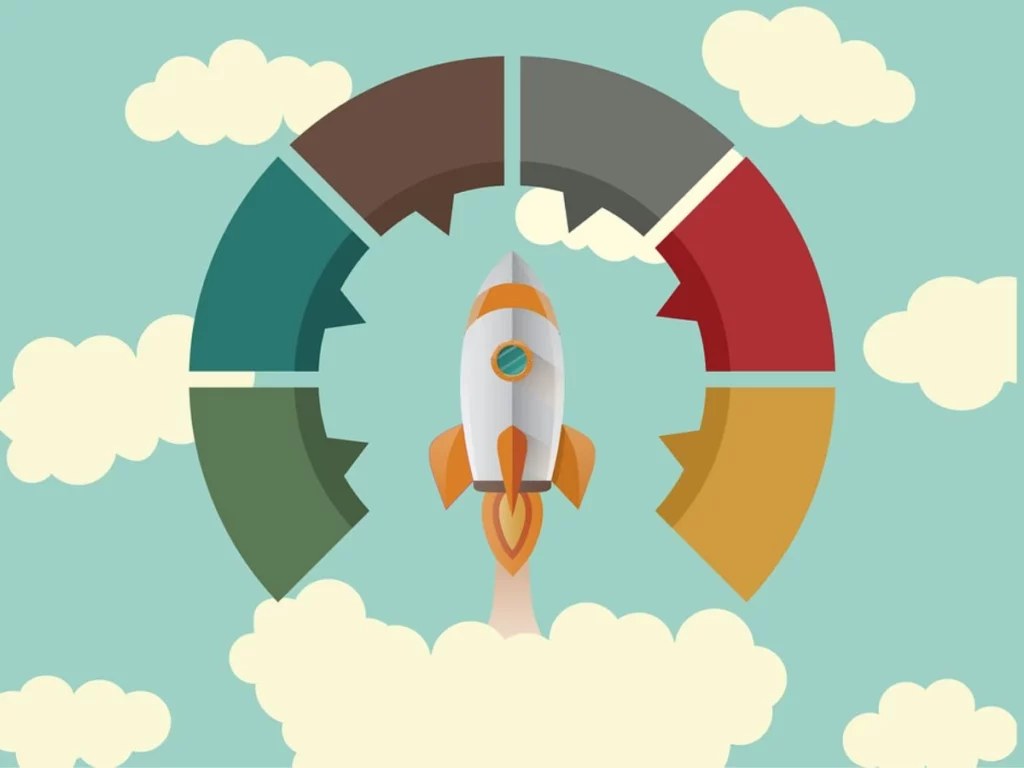 Site speed is another important aspect of technical SEO. Search engines prefer websites that load quickly, as this provides a better user experience for users. Some points to keep in mind are:
Improve your site speed by optimizing images for a light code, lighter version of images, light animations, lazy load, etc.
Serve the page with light code by eliminating unnecessary scripts, spaces, using CCSS, minifying and combining scripts, and using lazy load, etc.
Use good servers, cache policies, and distributed cloud servers.
Eliminate layout shift, reduce unused CSS & JS, etc. If you are using a theme, make sure to use a light one which is compatible across devices.
Use XML Sitemaps and Robots.txt Files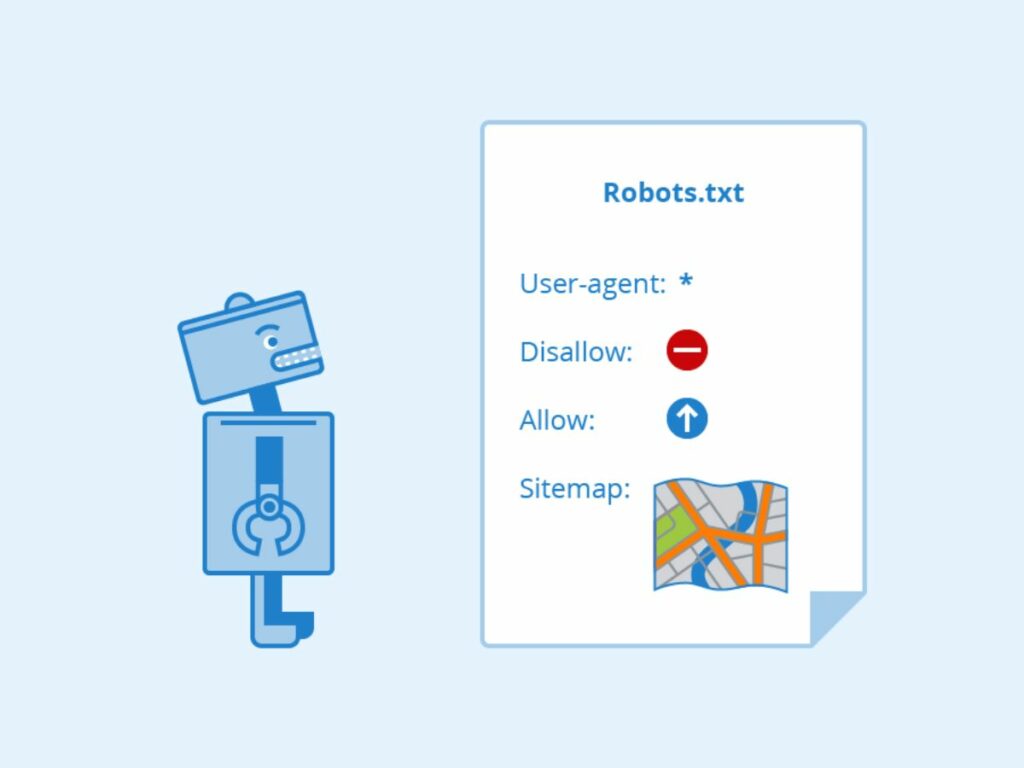 XML sitemaps and robots.txt files are important components of technical SEO. XML sitemaps help search engines to understand the structure of your website and to find the content on your site more easily. Robots.txt files tell search engines which pages on your site should not be indexed, helping to prevent duplicate content and other issues that can negatively impact your rankings.
Make sure you use robots.txt file and update your XML sitemaps to search engines regularly to keep your site updated and serve the best results.
You can look at more of these points in the google page speed metrics results. There is a detailed list of things you can check and work on your website to improve it technically.
Conclusion
By following these best SEO practices for 2023, you can optimize your website to rank higher in search engine results and drive more traffic, leads, and conversions. However, it is important to remember that SEO is an ongoing process, and that you will need to monitor continually and adjust your strategy in order to stay ahead of the competition and achieve long-term success. So, if you're ready to take your online marketing to the next level, start implementing these best SEO practices today!
Read more on how to make a WordPress website from scratch.
Read more on 14 tips to avoid failure in creating an author-website.