Introduction
Kukkutasana, also known as the Cock Pose, is an advanced and invigorating yoga posture that requires strength, balance, and flexibility. The name "Kukkutasana" is derived from the Sanskrit words "Kukkuta," meaning cock or rooster, and "asana," signifying a yoga pose. This arm balance pose resembles a rooster's stance, with the legs folded and the body lifted off the ground. In this article, we explore the history, significance, benefits, step-by-step guide, and variations of practicing Kukkutasana.
Unraveling the Roots of Kukkutasana
Kukkutasana has its origins in traditional Hatha Yoga and is mentioned in ancient yogic texts like the Hatha Yoga Pradipika. The pose has been practiced by advanced yogis to enhance upper body strength, improve concentration, and cultivate mental focus.
Embracing the Symbolism of the Cock Pose
Kukkutasana symbolizes the courage, confidence, and assertiveness of a rooster. As the rooster stands proudly, practitioners of Kukkutasana draw upon their inner strength and determination to balance on their hands and find stability in this challenging pose. This asana embodies the qualities of fearlessness and poise—qualities that can be harnessed both on and off the mat.
Step-by-Step Guide to Practicing Kukkutasana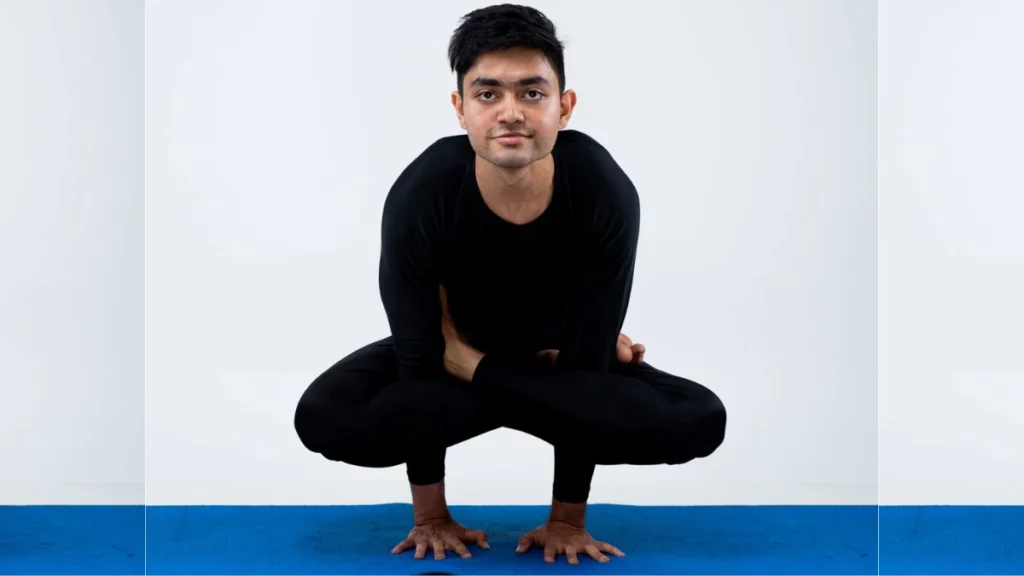 Follow these step-by-step instructions to confidently embody the Cock Pose:
Begin in a seated position with your legs extended in front of you.
Bend your knees and bring your heels close to your pelvis, keeping your feet flat on the floor.
Slide your hands, palms facing down, under your thighs and grip your wrists from the outside.
Lean slightly forward, shifting your weight onto your hands, and engage your core muscles.
Lift your feet off the floor, balancing on your hands with your knees pressed into your armpits.
Extend your legs forward one at a time, straightening them in front of you.
Keep your chest lifted and your gaze focused forward, finding a sense of balance and poise.
Breathe deeply and hold the pose for a few breaths, gradually working towards longer holds.
The Invigorating Benefits of Kukkutasana
Kukkutasana offers a range of physical, mental, and energetic benefits:
a) Arm Strength: The pose strengthens the arms, shoulders, and wrists, enhancing upper body strength.
b) Core Engagement: Kukkutasana activates the core muscles, improving stability and balance.
c) Concentration and Focus: The challenging nature of the pose requires mental focus and concentration.
d) Emotional Resilience: Practicing Kukkutasana fosters a sense of fearlessness and confidence.
e) Energetic Activation: The pose stimulates the manipura chakra, the seat of personal power and transformation.
Variations and Modifications
Kukkutasana can be adapted to suit individual needs and abilities:
a) Using Blocks: If you find it challenging to lift your feet off the floor, place yoga blocks under your feet to provide support.
b) One-Legged Variation: For a gentler version, lift and hold one leg at a time, alternating sides.
Precautions and Contraindications
While Kukkutasana is a rewarding pose, it requires careful attention and consideration of the following:
a) Wrist or Shoulder Injuries: If you have wrist or shoulder issues, avoid practicing Kukkutasana until you have fully healed.
b) Pregnancy: Pregnant individuals should avoid this pose due to the pressure on the abdomen and the requirement of arm strength.
Conclusion
Kukkutasana, the Cock Pose, invites practitioners to embrace the boldness and confidence of a rooster. As yogis balance gracefully on their hands, they discover inner strength, courage, and resilience. Kukkutasana becomes a metaphor for facing challenges with fearlessness and embracing one's true potential. With dedication, patience, and respect for individual limitations, the Cock Pose can become a symbol of personal growth and self-discovery. Just like a rooster heralds the dawn with its crow, practicing Kukkutasana awakens the spirit and inspires the yogi to greet life with courage and poise.
Read more about the history of yoga.